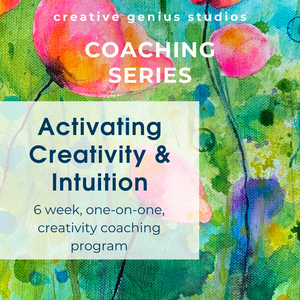 Activating Creativity & Intuition Coaching Series - 6 Week Program
Regular price
Sale price
$914.00
---
Spaces are extremely limited for this life-changing creativity and intuition coaching series
Unlock Your Gifts & Unstuck Your Life
Contained within you, is a boundless, raw, wild and abundant ocean of intuition and inspiration. These vital aspects of your being are the key to accessing the most trustworthy information available for navigating life - gut instinct, inner knowings, insight & inspiration. Yet many of us were not taught or encouraged to strengthen these parts of ourselves. 
Humanity is Glitching™ because we have become disconnected from creativity which is the source of the most trustworthy information available for navigating life; gut instinct, inner knowings, insight & inspiration.
Unleash Your Inner Creative 
Embark on a transformative journey to awaken your creativity and intuition. Imagine having a powerful inner GPS guiding you through life, making decisions clearer and aligning you with your purpose. Helping people unlock this for themselves is one of the things I am most passionate about. It is why I created and host The Creative Genius Podcast (a top 1% podcast, globally!) and why I am excited to be offering a select number of coaching spots for people who are ready to tap into their boundless wellspring of creativity and intuition.
Why Creativity & Intuition Matter
Imagine the impact of being able to consistently tap into your intuition and creativity. It's like activating an internal guidance system that brings clarity to decision-making, invites serendipity, enhances inspiration, and aligns you with your purpose. As someone who has lived a life steeped in creativity and intuition, I understand the power and potential they hold. Through this coaching series, I'm here to guide you towards activating, aligning, and accessing these latent gifts, laying the foundation for a more authentic and fulfilling life.
Learning how to consistently tap into and access your creativity and intuition can dramatically alter your entire life; it can feel like turning a powerful inner GPS system on - decision making becomes easier and clearer, you begin to experience more serendipity, more consistent inspiration, alignment, clarity and sense of being at peace, on purpose and in the flow of your life. 
Guided by Expertise
Drawing from my lifetime of experience as a deeply creative individual with an innate connection to intuition, I am committed to guiding you on this transformative journey. As a lifelong artist and someone who has a natural easy connection to my own intuition, I've navigated through creative blocks and embraced moments of inspiration, and I'm excited to share my insights and techniques with you to build a new foundation for you to orient your life from so that you can live your life as the truest version of you.  
Empowering Your Journey: What You'll Gain from the Coaching Series
Embarking on the "Activate Your Intuition Coaching Series" promises a remarkable transformation. Through tailored exercises and dedicated guidance, you'll acquire invaluable skills that shape your relationship with creativity and intuition. Here's a glimpse into what you can anticipate:
Unravel Limiting Beliefs: Discover and confront the beliefs that hinder your creative flow. With targeted exercises, you'll identify these barriers and dismantle them, paving the way for uninhibited creativity.
Foster Empowering Beliefs: Forge new beliefs that align with your vibrant creative self. I will guide you in crafting affirmations and perspectives that encourage your creativity to flourish.
Navigate Intuition vs. Rationality: Learning to differentiate between intuition and the rational mind is a crucial skill. Through guided meditations and exercises, you'll sharpen your ability to listen to your intuitive voice, making decisions with greater clarity.
Reliably Summon Intuition: Building upon the previous skill, you'll master the art of consistently tapping into your intuition. I'll share techniques to reliably summon intuitive insights, providing you with a constant wellspring of guidance.
Two-Way Communication with Your Highest Self: Strengthen your connection with your inner wisdom. You'll delve into a profound dialogue with your highest self, enabling you to access deeper insights and wisdom.
Embrace Trust and Confidence: As you cultivate these new skills, trust in your newfound capabilities will naturally grow. Feel empowered to embrace your intuition and creativity as dependable guides on your journey.
Integrate Learnings into Reality: The transformation you experience during the coaching series won't remain theoretical. You'll learn to translate these insights into practical practices and rituals, ensuring your growth extends to every facet of your life.
Each of the six weeks will be dedicated to these transformative practices, honing your abilities and nurturing your creative and intuitive self. The tools you'll acquire are not just for the duration of the program – they're lifelong assets that will continue to enrich your journey long after the series concludes.
Unlocking the Benefits of the Coaching Series
Are you ready to experience profound changes in your life? Here's what the "Activating Creativity & Intuition Coaching Series" can offer you:
Awaken Intuition: Learn to rely on your intuition for navigating life's challenges with confidence.
Find Alignment and Purpose: Rediscover a sense of purpose and alignment in your journey.
Unleash Your Creative Voice: Cultivate and express your creativity without inhibition.
More Frequent Inspiration: Experience a consistent flow of inspiration in your daily life.
Navigate Creative Blocks: Acquire strategies to overcome creative hurdles.
Cultivate a Joyful Creative Practice: Develop a sustainable and joyful creative routine.
Transform Limiting Beliefs: Release limiting beliefs that hinder your creative growth.
Confidently Share Your Work: Gain the confidence to showcase your creative endeavours to the world.
The Journey Ahead
What can you expect from this 6-week program?
Personalized Coaching

: Six 60-minute one-on-one coaching sessions via Zoom.

Practical Resources

: Homework, handouts, downloadable meditations, and journal prompts.

Continuous Support

: Weekly Office Hours for questions between sessions.

Community Connection

: Access to the Creative Genius Private Facebook Group.

Ongoing Transformation

: After completing the program, book individual ongoing sessions with me.
Seize Your Spot
Securing your spot in the "Activating Creativity & Intuition Coaching Series" is simple:
Make Your Payment

: Your payment guarantees your spot in the program.

Select Dates

: Receive a link to choose session dates via Calendly.
Limited Spots Available
The available spots are limited. If you find that the program is already sold out, don't worry! Use the signup form below to be the first to know when new spots become available.
Embrace the Transformation
Are you ready to embark on a journey that will forever change your relationship with creativity and intuition? The "Activating Creativity & Intuition Coaching Series" offers you a chance to dive into the depths of your potential, unlocking a world of inspiration, purpose, and creativity that resides within. Join me on this life-changing adventure and activate your inner wisdom today!
Unlock Your Potential. Transform Your Life. Join Now!
If you are not able to add this to your cart at the top of this page, it means the current spots are SOLD OUT. Use the signup form below to be the first to be notified when a new spots are available.