The Creative Genius Podcast with Kate Shepherd
---
The Creative Genius Podcast (top 1% of podcasts, worldwide) is about remembering creativity is in
 

all

 

of us, and how our lives start to glitch when we don't let it out

Humanity is glitching™  because we have systematically cut ourselves off from healthy creative expression. Much of (if not all of) what is wrong in the world today can be resolved by healing our collective relationship with creativity, starting with ourselves.

These are candid, insightful conversations with some of the brightest creative minds and hearts of our time - I've spoken to artists, actors, award winning musicians, Emmy nominated TV writers & producers, creative psychologists, stand-up comedians, philosophers, a New York Times bestselling author, and even an Oscar nominated film director about what creativity truly is, what it wants, how it feels and moves, so that listeners everywhere can realize we all contain this garden variety magic inside. 

Join me on this brave, soulful, curious and life-changing exploration that is moving people all over the world to bravely find, activate and express the creativity that lives inside, so that we can all stop glitching.  

Give your life (and humanity) the reboot it needs

 

Follow, Listen, Rate & Review (thank you!)  in Apple Podcasts 
Subscribe & Listen in Spotify
Subscribe & Watch clips on Youtube
OR listen in your favourite podcast app



Support the Creative Genius Podcast

For as little as $5 a month (the equivalent of buying me a thank-you-for-making-me-this-great-podcast-coffee) you can have a profound impact on my ability to keep making this show for you.

Become a Patron!
A podcast about finding & embracing true creativity through the magic of listening to your own heart. 
Throughout my lifetime as an artist, I have heard thousands of people quietly whisper things like, "I wish I could be creative, but I am just no good at that stuff". The truth is that creativity is available to everyone. 
I speak with some of the most brilliant, creative minds & hearts of our time, digging into what inspires them, finding out how they deal with creative blocks and how they have gotten out of their own way to allow creativity to move through them, and are now experiencing creative success beyond their wildest imaginations. I invite you to join me on this journey. Together, we'll discover that not only is creativity available to every single one of us, but that when we let it lead the way, we finally find our way. This just might be the invitation of your life!
I had a rough start in life. As a child, my home life was filled with chaos and violence - I ended up setting out on my own at a very young age. I spent my whole life busily and successfully manifesting all the beautiful things. Money. A great jewelry brand. An expensive home in a big city. And still there was something missing... and it wasn't material. I realized that at the deepest level of my being I wanted to be in service to something. But I didn't know what....
Ever found yourself saying, "I wish I could be (more) creative..." ?

This podcast is for YOU
As a lifelong artist, creativity has been my greatest friend and constant companion, the one thing that has never left me. It has walked beside me through the dark times and always led me back to the light. One day, I realized that not everyone has this relationship with the creativity (that lives inside ALL of us) and it HIT ME that this is why HUMANITY IS GLITCHING™! And I knew, in that moment, that this was my calling. It all fell into place. 
I know that a healthy relationship with creativity is as important as breathing or thinking. 
I know that when we activate creativity we access deep wisdom & intelligence that has the power to help us build the lives of our dreams.
And I also know that because of some extremely limiting beliefs about creativity that we have glommed onto as a culture, many people have come to believe they can't be creative (even though they wish they could) and this is why Humanity is Glitching™. 
I am on a mission to challenge these limiting beliefs out loud in the mainstream, to help as many people as I can, remember what creativity really is and that it is inside each and every one of us.
The Creative Genius Podcast is 100% devoted to the emergence of creativity in YOU. It is a love letter to everyone who has ever wished they could be more creative but believed they couldn't. Because that wish, is creativity itself asking to be set free. 
May these episodes reach you in some deep, magical way. 
This just might be the invitation of your life!
yours in creativity, 
The Creative Genius Podcast | Episodes
Support the Emergence of Creativity Everywhere - Become a Patron!

Subscribe & Watch FULL episodes on
Youtube
Listen in your favourite podcast app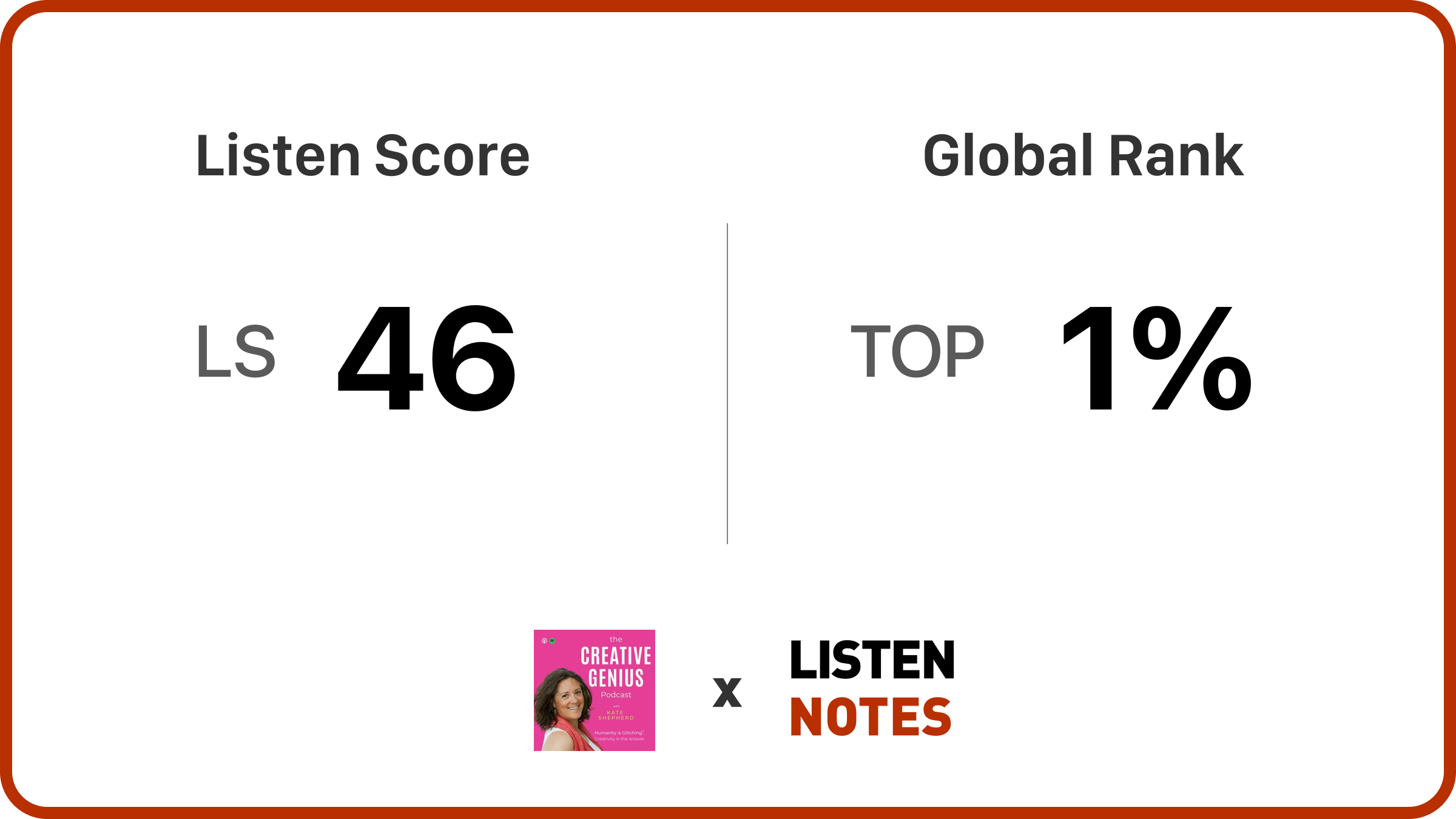 Celebrate the Creative Genius Podcast milestones with us!